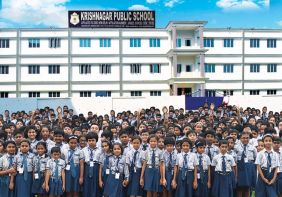 Message from the Chairman
One of the greatest gifts parents can give their children is school education. Krishnagar Public School provides a congenial, competitive, encouraging and compatible is atmosphere. We chisel the love for learning, foster moral and ethical values, inculcate ideal life-skills, leadership qualities, motivate young minds to excel and mould each one into responsible serving citizens.

The well qualified, trained, skilled teachers having academics from English medium are taken to envisage a better teaching-learning facility. The large soothing, green environment kept in solitude from the hustle bustle of the city life upon the NH-34 provides a complete arena for imparting knowledge.

Technology transmutes teaching through smart boards, documentary short films and digital apps are the tools of delivery to evoke and enlighten our youth.

KPS sure is not restricted to impart bookish knowledge only but inculcate humanitarian values like wisdom, compassion, courage, humanity, integrity and reliability in a student.

The panorama of sport activities under the able guidance of the sports Titans, imparting foreign language and karate activities are taken with utmost care and that have inculcated team spirit, feeling of camaraderie and confidence in each individual students as a whole.

I assure that the school will always remain the four most temple of learning, where there are and will be "Equal Opportunities to all so that they arise together to the fullest potential". KPS is now on its way to respond to national call by imparting 'Man Making and Character Building' education for all.
Mr. Naresh Chandra Das
Chairman Organizing Trust, NCDTE of KPS
Message from the Director
The children of today are gearing up to become adult citizens of tomorrow. The growth is parallel to the future of our country, reflected through quality of the present education system. A school must stimulate curiosity in the young, impressionable minds and equip them with tools to be better human beings.

It is widely accepted that the learning process is instrumental in shaping one's personality and the way one deals with the situations in life. The shift of thoughts from bookish knowledge to knowledge of life, in schools, has brought forth a sea of change. People have warmed up to the idea of education being the key to a well-rounded development instead of just a mean to acquire degrees and monetary success in life. Education must facilitate the cultivation of a healthy thought process and groom our cognitive abilities. In the present competitive world, education is a basic necessity for human beings after food, clothes and shelter.

School education must contribute immensely to the development of the young minds as they step into adulthood.

Krishnagar Public school is a friendly school where each and every student is understood, valued and attended too. Our students are provided with state-of-the-art facilities, like well-equipped science laboratory, computer laboratory and audio visual room. Equal attention is given to the development of the children both academically and in extra-curricular activities like different sports, yoga, cultural activities, etc.

Today, we stand as one of the noted educational landmarks in the heart of Krishnagar and Nadia District. We offer our students a stress free learning environment which encourages creativity and critical thinking. At Krishnagar Public School, we are dedicated to exhaustive quality learning and are utterly committed to a continuous process of improvement for the benefit of the students. We are always open to refreshing views and suggestions which can add more value to the students of our school.

I assure that this school will always remain the foremost temple of learning, where there are and will be 'Equal Opportunities to all so that they rise together to their fullest potential'. KPS is now on its way to respond to the national call, by imparting 'Man-Making' and 'Character-Building' education for all.
Mr. Amitava Guha
Director
Krishnagar Public School
Message from the Principal
"Education is a shared commitment between dedicated teachers, motivated students and enthusiastic parents with high expectations".

Today, the role of a school is not only to pursue academic excellence but also to motivate and empower its students to be lifelong learners, critical thinkers, and productive members of an ever-changing global society. Few years back KPS Nadia pledged to transform education. The school that is being run under the aegis of well-established Management "National Centre for Development of Technical Education" has carved its own niche not only in the city but also across the nation. At KRISHNAGAR PUBLIC SCHOOL we provide an atmosphere to our students for multifaceted development, where children are encouraged to channelize their potential in the pursuit of excellence.We are a school with a difference. We value individualism, creativity and innovation and strive to nurture them in our students.

We always keep the CHILD at the CENTRE of ALL activities without exception. We jointly ensure to pilot the delivery of curriculum with honesty and dedication with sharp focus on maintaining quality standards. We have always strived to use various teaching methodologies trying to help students with different learning styles and apply the different Multiple Intelligences to cater to the heterogeneous groups in the class.

I believe that the classroom is a living community and that everyone, from the Principal to the Students to the Parents, must contribute in order to maintain a positive atmosphere.

I take this opportunity to express my sincere gratitude and heartfelt thanks to our Chairman Mr. Naresh Chandra Das for gifting us such a beautiful ambience. It is natural to find in this ambience, the intensive use of variety of thinking activities, strategies and group dynamics so that the classrooms become alive. Each day is filled with new experiences, learning for all, and the spirit to make someone's day better.

To conclude, in the light of Tagore, let us work together Individually and collectively to serve the cause of education, for the betterment of the coming generation so that they live in a world where knowledge is free and head is held high where the world has not been broken up into fragments by narrow domestic walls and the clear stream of reasoning has not lost its way. Let our boys and girls grow as world-class citizens- a generation of eminent thinkers and wise planners contributing to a better world to live in. That's exactly is our wish, and that exactly is our dream.
Dr. Sankar Prasad Dutta
Principal
Krishnagar Public School
Message from the Vice Principal
Krishnagar Public School is one of the most highly glorified academic institutions inKrishnagar. It is the only school affiliated to CBSE offering the maximum subject combinations at the +2 level in the district of Nadia, West Bengal.

I feel extremely happy and delighted to be a part of such a notable educational institute. Situated in a prime location with close proximity to the central railway station and bus stand, we cater to the educational needs of children far and wide.

We at KPS aim at the holistic development of each and every child and as such we stress not only at scholastic aspect but also at the co-scholastic aspect of the individual child. With the ever changing nature of the society, we at KPS try to deliver the best mindset and nurture the creativity and hidden potentials of every child.

I am thankful to our Chairman Sir, Director Sir, Principal Sir, all the members of the School Managing Committee, Headmistress Maam, and my dear teachers for their continuous cooperation in the enhancement of the standard of academics in the institution. I rest my pen with the following lines by renowned poet Robert Frost:

"The woods are lovely, dark and deep,
But I have promises to keep,
And miles to go before I sleep
And miles to go before I sleep..."
Dr. Ramesh Kumar Agarwal
Vice Principal
Krishnagar Public School
Message from the Headmistress (Primary)
Krishnagar Public School stands as one of the leading and most sought after CBSE affy Senior Secondary schools in the Nadia District imparting quality education at an affordable rate. Our vision to educate, enlighten and empower has been tested just only for 4 complete years and has proved, accepted and appreciated by the community. The school which had a humble beginning in 2016 with just 35 students and merely 5 teachers has got 1200+ students within the short phase.

We believe, that success comes to those who work hard and stay with those who don't rest on the laurels of the past. Aristotle once said, Educating the mind without educating the heart is no education at all even we impart education to match the advancement in technology and globalization, we march our children ahead with the ethos of moral values and principles. We endeavour constantly to instill these qualities in our children. We pride ourselves to help them grow and develop into sensitive and responsible citizens of the future.

The supportive management, dedicated teachers, caring and cooperative parents blend harmoniously to create a child centric school at Krishnagar. It is natural to find in this ambience, the intensive use of variety of thinking activities, strategies and group dynamics so that their classrooms remain alive.

In the capacity of Officiating Principal for the last few years, I had tried to contribute my best to the school during its humble beginning till the time of its affiliation to both secondary and senior secondary level. I feel glad that finally we have Dr. Dutta, a CBSE awardee educator with more than two decades of experience as our Principal. In my present capacity of Headmistress, I will ensure that our blooming buds gets the basic foundation and suitable guidance to become world class citizens.

Finally, I would like to extend my heart felt gratitude to my Chairman, the Directors, seniors for their unflinching support and motivation throughout the journey to make the school a second home not very far away.
Mrs. Rekha Goswami
Headmistress (Primary)
Krishnagar Public School
Message from the Headmistress (Secondary)
It is immensely important to choose the right school not only when our children are just starting out and depend heavily on the parents to determine the atmosphere that is suitable for them but also later in life when they much aware of their needs and choices. It is important that students feel comfortable in the ambiance of the school at the same time get the exposure and facilities they need to develop into effective 21st century citizens.

At Krishnagar Public School, Nadia, we believe that Education is a shared commitment between dedicated teachers, motivated students and enthusiastic parents with high expectations. We strive to provide each of our studentsthe opportunity to express themselves through a carefully planned curriculum, and child-friendly pedagogy. We believe that each child has their own unique quality and as facilitators it is our responsibility to help identify, nurture and develop this potential in every learner in their formative years. Our dedicated and highly motivated team of teachers work tirelessly to ensure the very best opportunities for every child. We follow the CBSE curriculum and constantly update our methodology to incorporate the latest teaching techniques to ensure that it remains appropriate to the needs of our learners. State of the art infrastructure and modern practices ensure an effective teaching-learning process.

Being the only CBSE affiliated public school in the vicinity of Krishnagar, we offer a wide variety of subject combinations including Vocational or Skill Based subjects for the students to choose from according to their interests and skills. Our team of dedicated teachers are constantly updated with the latest innovations and educational policies implemented by the Board.

Our students are constantly trained to foster respect for diversity that prepares our students for participation in a complex and changing world. We strongly believe in the importance of parents, teachers and administrators working in unison, thereby ensuring happy and fruitful years of school education for all our students.
Ms. Indrani Bhattacharyya
Headmistress (Secondary)
Krishnagar Public School