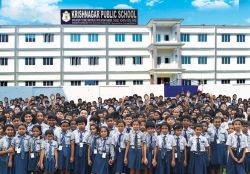 One of the greatest gifts parents can give their children is school education. Krishnagar Public School provides a congenial, competitive, encouraging and compatible atmosphere. We chisel the love for learning, foster moral and ethical values, inculcate ideal life-skills, leadership qualities, motivate young minds to excel and mould each one into responsible serving citizens.

The well qualified, trained, skilled teachers having academics from English medium are taken to envisage a better teaching-learning facility. The large soothing, green environment kept in solitude from the hustle bustle of the city life upon the NH-34 provides a complete arena for imparting knowledge.

Technology transmutes teaching through smart boards, documentary short films and digital apps are the tools of delivery to evoke and enlighten our youth.

KPS sure is not restricted to impart bookish knowledge only but inculcate humanitarian values like wisdom, compassion, courage, humanity, integrity and reliability in a student.

The panorama of sport activities under the able guidance of the sports Titans, imparting foreign language and karate activities are taken with utmost care and that have inculcated team spirit, feeling of camaraderie and confidence in each individual students as a whole.

I assure that the school will always remain the four most temple of learning, where there are and will be "Equal Opportunities to all so that they arise together to the fullest potential". KPS is now on its way to respond to national call by imparting 'Man Making and Character Building' education for all.
MR. NARESH CHANDRA DAS
Chairman Organizing Trust, NCDTE